PMI News
Pigeon Mountain Industries & Richard Delaney's RopeLab Team Up
Pigeon Mountain Industries' Vertical Rescue Solutions is thrilled to partner with Richard Delaney's RopeLab on September 21st  to the 26th. This 5-Day Back Country Rescue Workshop will break new ground for both companies. The Workshop is currently SOLD OUT, but you can still find more Vertical Rescue Solutions classes at our website www.pmirope.com
Richard Delaney's  workshops are available on his RopeLab website at www.ropelab.com.au
"Richard does a lot of rigging workshops, but this is the first time that it will be given completely in the back country with the main focus being on lightweight and practical rigging skills," said Tom Wood, PMI's Technical Department Manager and one of VRS' longest tenured instructors.  "I expect that a lot of folks are going to leave this workshop, go home, and revisit the way that they've been doing rope rescue."
5-DAY BACK COUNTRY RESCUE WORKSHOP
This ​unique ​5-day ​workshop ​focuses ​on ​understanding ​first ​principles ​and ​building ​realistic ​roping ​systems ​from ​first ​principles. ​ ​Long-held ​rules ​will ​be ​challenged,  ​and ​where ​appropriate, ​replaced ​with ​justification ​for ​making ​decisions ​based ​on ​facts, ​logic, ​and ​physics.
"Physics is an integral process of rope rescue," said Jeff Bowles, Lead VRS Instructor and PMI's Risk, Safety and Industry Relations Manager. "Knowledge of your equipment and the abilities and limitations applied in a practical manner is vital to keep rescuers competent and safe in high risk situations. Working with live loads is very serious, and it is vital to learn the cause and effect relationships of forces applied to technical rigging situations. These can change constantly during rescue operations. Thankfully, Richard explains the physics aspect of rope rescue in an accessible and easily understood format."
VERTICAL RESCUE SOLUTIONS
PMI's training division, Vertical Rescue Solutions (VRS), doesn't just teach this stuff—they live it. And with PMI's 40 years in the rope and life safety manufacturing business, you can be assured that quality gear and instruction go hand in hand. PMI's VRS instructors have knowledge gleaned from a variety of disciplines—Fire, EMS, Mountain Rescue, Confined Space, Technical Rope Rescue, Cave Rescue, Industrial Rope Access and Rescue. With years of hands-on, real world experience, our instructors strive to save lives and provide a safer environment for at-height workers and rescuers through quality education and instruction.
Tom Wood, Martin Barnett, Aaron Dover & Jeff Bowles of Pigeon Mountain Industries' VRS will be joining Richard Delaney in the Back Country Rescue Workshop.
RICHARD DELANEY AND ROPELAB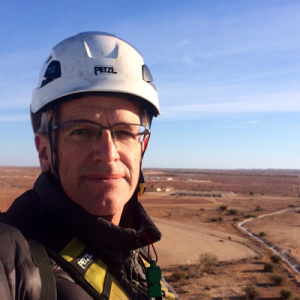 Richard Delaney has worked professionally with ropes since 1992. Initially, this was as a multi-pitch rock-climbing instructor, but this moved quickly into specialized rescue instruction and rope access work.
"Richard brings some new and different perspectives on rigging and technical rescue," said Bowles. "He takes technical concepts and teaches them in a manner easily understood for participants of all levels."
Richard's formal qualifications include:
Bachelor of Engineering (Hons)
Master of Environmental Management
Diploma of Outdoor Recreation
Level 3 Rope Access Technician and Assessor/Evaluator (Australian Rope Access Association and Society of Professional Rope Access Technicians)
Licensed Dogger & Rigger
Certificate IV in Training and Assessment
Richard is also:
an accredited Vertical Rescue Instructor/Assessor
a past board member and Technical Director of the Australian Rope Access Association
a volunteer and Vertical Rescue Team Leader with the NSW State Emergency Service
the founder of the Rope Test Lab group on Facebook
In 2012, Richard bought a set of testing equipment and began to test his theories and ideas around the physics of roping systems.  Seeking to share ideas and stimulate conversation, he began the Rope Test Lab Facebook Group.  This grew quickly and currently supports around 7,500 members.
From this basis, RopeLab was established to build a greater understanding of the physics of roped systems.
READY FOR ANYTHING
"PMI instructors have gained our knowledge on rigging and rescue by actually doing this stuff," said Wood. "And we are hungry for knowledge. What we are doing with RopeLab is marrying theory and practice into a package that will help our students save lives as they head home to utilize what they've learned in the Colorado mountains."