Products and Information
Helmets for Work-At-Height
It is understandable why a rescue worker expected to work-at-height would need specific safety gear. Helmets are one of the most important pieces of Personal Protective Equipment (PPE) needed to keep a worker safe during activities that can potentially cause head injury. A helmet can protect against injury caused by impacts associated with slips, falls, pendulums, and falling objects. Let's look at the type of helmets that you can choose from, and which ones fit the bill for the task at hand.
---
What are the types of helmets available?
---
There are three types of helmets commonly used in these pursuits to help protect you from a head injury:
Construction Helmets
Mountaineering Helmets
Technical Rescue Helmets

Well, the question arises — what are the key difference between any of these helmets?
The answer lies in the ways that they are tested. They are all tested as per their use. In this case, since we are talking about protective gear, we shall talk about PPE. PPE (or Personal Protective Equipment) is safety equipment that is intended to be used to protect a person's body from harm, and that complies with relevant standards.
To maintain compliance with Occupational Safety and Health Administration laws employees should use PPE that meets regulatory requirements of the country/jurisdiction in which they are working. In the United States of America, OSHA is the regulatory body. And relevant standards for safety helmets include ANSI Z89.1 for Industrial Head Protection (aka, Construction Helmets) and NFPA 1951 for Technical Rescue helmets.
Helmets for firefighting are covered by different standards. There is no U.S. standard specifically for mountaineering helmets, so most users defer to UIAA or European standards for these.
Meeting standards and regulatory requirements is just the beginning. In addition, employers and users of equipment should have a clear understanding of potential hazards associated with their intended use, so that they can choose accordingly. For example, helmets used for work at height should meet ANSI Z89.1 – the same standard as construction bump caps meet. A key difference, however, is that a helmet used for work at height should have a three-point retention harness – a feature not addressed by the standard.
Safety Helmets for Work at Height
Rappel and belay gloves come in different sizes of small, medium, extra small, large, extra-large and XX large. One way to get a good fit is to measure your hand width (measure the width of your dominant hand using a tape). If the rappel gloves have numbered sizes, the measurement can be directly related to the glove's listed size.
Industrial helmets meeting the requirements of ANSI Z89.1 are separated into three Classes and two Types, indicating levels of protection and degree of electrical insulation:
1) Class G (general) helmets are tested at 2200 volts,
Type 1: Top Impact Protection
Type 2: Lateral & Side Impact Protection.
2) Class E (electrical) are tested at 20,000 volts, and
Type 1: Top Impact Protection
Type 2: Lateral & Side Impact Protection.
3) Class C (conductive) provides 0 electrical protection.
Type 1: Top Impact Protection
Type 2: Lateral & Side Impact Protection.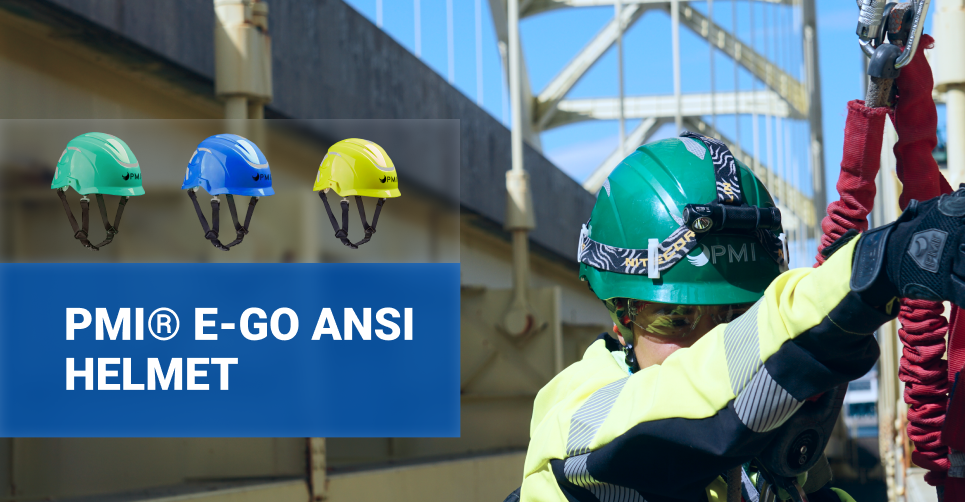 ---
European Helmet Standards
---
In Europe, the standards relevant to Work-At-Height / Rope Access / Rescue helmets are primarily:
Mountaineering Grade: EN12492
Industrial Grade: EN397
These two types of helmets meet different sets of criteria; some users lean toward mountaineering grade helmets because they are subjected to a somewhat higher test force. But this is an oversimplification of the matter and does not take into account other features tested, such as chinstrap release forces and other things.
European standards are not the topic of this article. So it would suffice to say that buyers should beware of the differences and not make the mistake of thinking that "just meeting some standard" is sufficient.
For some users in the United States choosing the right kind of helmet helps you feel confident about your personal safety and helps you avoid costly medical bills.
---
What are the most important features of a helmet used for work-at-height / rope access / rescue?
---
For a Work-At-Height / Rope Access / Rescue Helmet to be suitable for a wearer, it needs to:
Provide an unobstructed view to the wearer. Periphery vision is very important during vertical work of any kind.
Be lightweight. PPE often involves wearing many other pieces of equipment. Hence, the lighter each piece is, the better it allows you to function and perform your job safely.
Be well-fitted to the head of the wearer.
Have the option to attach ancillary pieces of equipment such as headlamps or visors.
Provide decent ventilation with fitted straps that do not cause overheating or uncomfortable situations that are distracting.
---
What helmets are good for work-at-height / rope access / rescue?
---
You should always select a helmet with a three-point retention system with chinstrap. This means that the helmet strap on each side of the head must have a 'Y' shape to it, connecting at both the side of the head and at the back before fastening beneath the chin. There should also be a supporting strap at the back of the helmet to keep everything secure. The rear retention point helps prevent the helmet from falling forward over the eyes. It should require a significant force to release the chin strap and buckle to help keep the helmet on during a tumbling fall situation.
Your helmet should also have a suspension system in it. For many helmets there is a webbing type suspension system in the top inside of the helmet, while others use a styrofoam insert. Some helmets incorporate both. This is designed to lessen an impact on the top of the helmet. After a significant impact that suspension system is typically destroyed and the helmet needs to be retired. Be especially attentive to inspecting helmets with styrofoam inserts, as these are more susceptible to damage even just during normal use.
While there are many helmet choices available on the market, PMI is many of the most reliable types of helmets. That is because of PMI's direct involvement in safety equipment manufacturing and testing. They are also heavily involved in developing manufacturing standards (ANSI, OSHA, NFPA, ASTM, ISO, and other professional standards). Let's talk about some of their Helmets: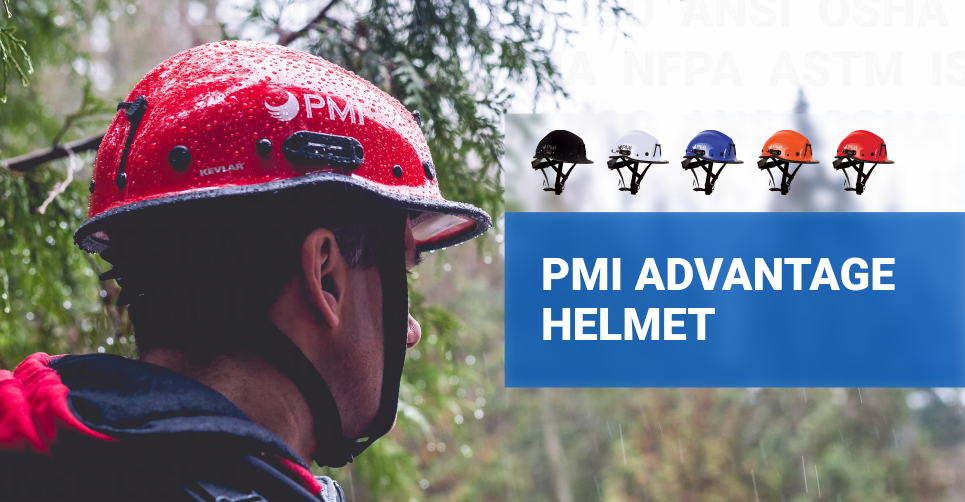 PMI Advantage Helmet
The de-facto standard for use in Urban and Industrial environments, the Advantage helmet is third-party tested and certified as meeting ANSI Z89.1 (Type 1/Class G), NFPA 1951, and EN 397. The Kevlar® composite shell is available in several standard and high visibility colors and features a peaked top and front brim for maximum protection. It is fitted with a fully adjustable ratchet headband and 3-point retention system to accommodate a wide range of head sizes, and accommodates goggles, earmuffs, and headlamp for your comfort and safety.
PMI® Brigade Helmet
Available in Black, Red, and White colors, the Brigade is third party tested and certified to  ANSI Z89.1 TYPE 1, CLASS G (2200V) TYPE 3, EN 397, NFPA 1951 (2013).  The shell of the helmet is made of Lightweight Kevlar® and a fiberglass composite shell with nylon webbing for optimal comfort. The outer face of the shell sports a UV-resistant hi-gloss or matte outer finish. For secure wear, there's a sturdy merino wool headband that can be removed and cleaned in a washing machine. Instead of a 3-point strap, it has a 4-point strap and a quick-release buckle for extra security. The nape strap features a ratchet size adjustment (ranging between 52-64 cm)
Beal — Mercury Group Helmet
With color variants like yellow, white, and red, the Mercury is a 0.51 kg hybrid helmet featuring an ABS shell with a polystyrene liner and internal padding. This padding can be washed in a washing machine. With a precise rear adjustment dial and excellent ventilation, this EN 12492 certified helmet is equipped with an ABS shell that hugs your head shape for both protection and comfort. The ABS shell has 4 Headlamp clips integrated into it, which makes it very functional for night rescues or wearing in darker environments. It also comes with a magnetic chin strap and buckle which can withstand more than 500 N of impact force. The buckle can also be closed or opened with one hand. Additionally, it features some side slots for optimum ear protection.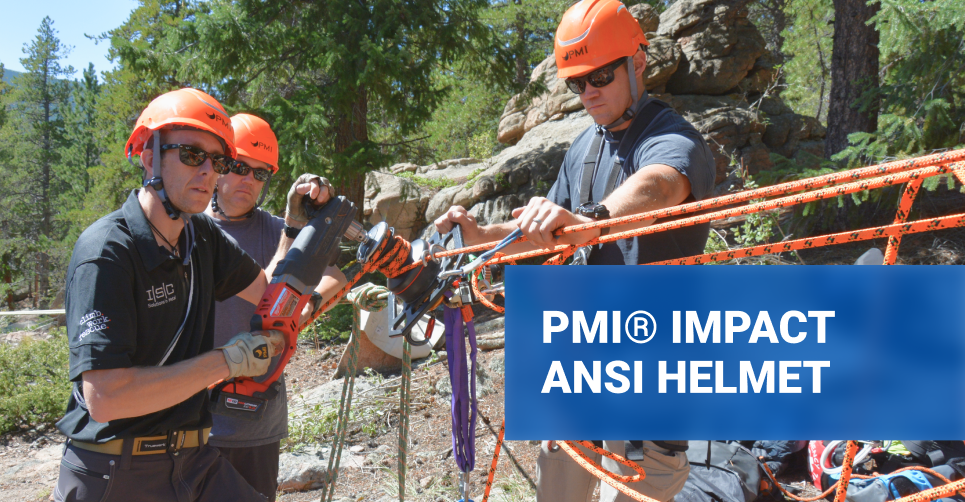 PMI® Impact ANSI Helmet
Available in the hues of high-visibility Orange, Yellow, and White, it also comes in custom colors (MOQ Applied). It features a wheel ratchet headband that helps to keep the helmet nice and secure. With a DryTech sweatband, it ensures protection from lateral impact and is third party tested and certified in accordance with ANSI Z89.1 and EN50635. The shell tapers into a sloped brim that protects the face/eye from downward-falling debris. This is a great ventilated shell design that is comfortable and easy to use. Finally, it comes with reflective visibility stickers with it, included within the MRP.
PMI® E-Go ANSI Helmet
Available in Blue and bright yellow colors, it also allows for custom color choices (MOQ applied). Designed to deliver safety in high voltage environments through electric resistance, this ergonomic helmet carries E-rating certifications for the USA (ANSI Z89.1), Europe (EN 397 and EN 50635), and Canada (CSA?? Standard number??CSA Z94.1?) and hence is not ventilated. Ventilation is counterproductive for a safety precaution against high voltage currents. With a ratcheting headband and a 4-point quick-release chin strap, it comes with a set of optional stickers.
PMI® Air-Go ANSI Helmet
Available in sharp red and white colors, this helmet abides by the USA (ANSI/ISEA Z89.1-2014 Type 1 Class C), Canadian (CSA/CAN Z94.1-05 Type 1 Class C), and European (EN 397, EN 50365) safety standards. With a ventilated ABS shell that can be procured in custom colors (MOQ Applied), it has a removable headband. Its straps can be easily replaced after considerable wear. It allows a quick and simple adjustment from 53-64 cm.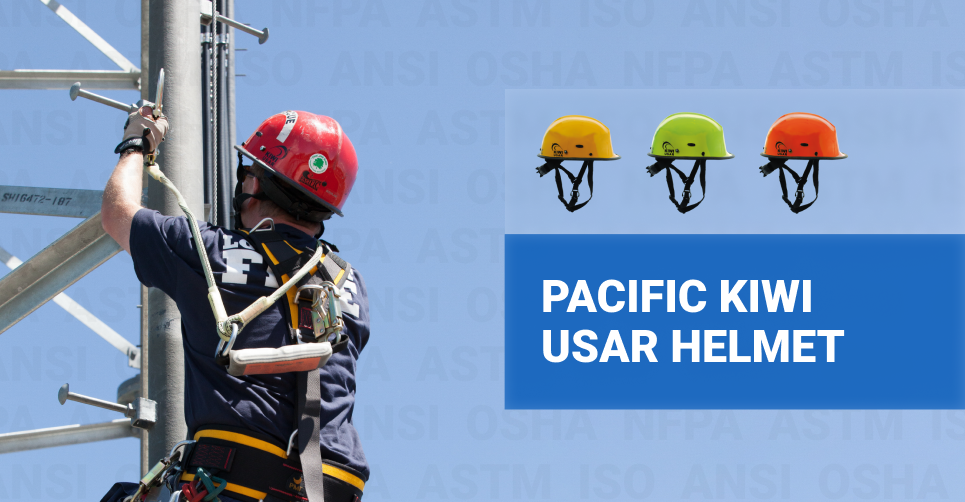 Pacific Kiwi USAR Helmet
It comes in the colors of yellow, black, white and red. Made with Ventilated Kevlar® RTM™, it ensures compliance with NFPA 1951 and EN12492 Standards. It has a polyurethane impact liner with a leather crown comfort cap and a leather headband with a Nomex chinstrap.
PMI® Pod Helmet
Designed to tackle vertical work and confined space operations, the POD is available in red and white hues. It is highly versatile, lightweight, and comes with its own built-in light pod that is compatible with UK4AA Light. It also comes with a 3-point chin strap in a Y shape and a goggle mount which is great for eye protection.
PMI® Ventilator Helmet
Available in both red and white colors, this light-duty rescue helmet has all of the features of a heavy-duty high-end mountaineering helmet. It has all of this while being robust enough for rescue and work at height applications as well. Along with a sleek Kevlar shell that acts as a lightweight material for the helmet, it also has an added vent. This vent is for those jobs when you need the protection of the Kevlar® shell along with the substantial cooling of a light breeze. It also comes with a durable three-point chin strap with a high impact force capacity. The shell is very versatile as it can hole a headlamp retainer, a couple of reflectors and has a breathable fitted feel to it. The material really backs up its claims of heavy ventilation and comfort.
---
Certifications required for Work-At-Height / Rope Access / Rescue Helmets by OSHA and other regulators:
---
Before you go out to buy a helmet for work-at-height/rope access/rescues, make sure that it is certified for the type of work you are performing. It should be third-party tested and certified to one of the appropriate standards relevant to your specific use as already mentioned. For employers and helmet users in the US, adherence to ANSI (American National Standards Institute), and/or NFPA (National Fire Protection Association) standards are most relevant for OSHA compliance.
All in all, make sure that saving money is not the only factor while buying safety equipment as important as a work-at-height/rope access/rescue helmet. A safe and durable one might cost relatively more, but it shall save you a lot of hospital bills and expenses on your own physical health.